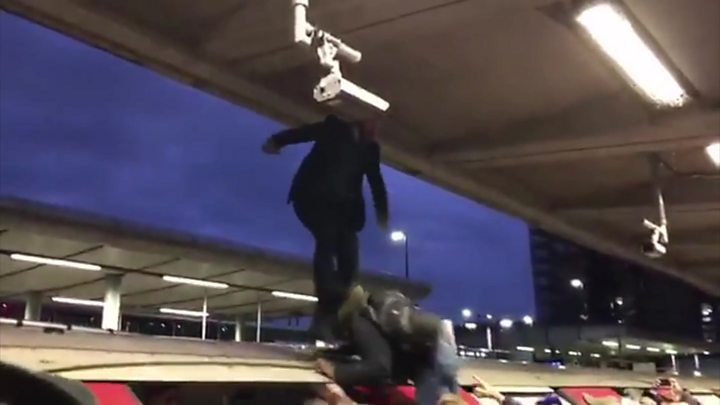 Commuters have dragged climate change protesters from the roof of a London Underground train.
Extinction Rebellion activists climbed on trains at Stratford, Canning Town and Shadwell during rush hour Thursday. Eight protesters have been arrested, British Transport Police (BTP) said.
The Jubilee Line and Docklands Light Railway were temporarily suspended.
Extinction Rebellion later said it would "take stock" of the reaction to the latest action for future protests.
Spokesman Howard Rees said: "Was it the right thing to do? I am not sure.
"I think we will have to have a period of reflection. It is too early to say."
Extinction Rebellion previously said the disruption was "necessary to highlight the emergency".
The moment commuters dragged a climate change protester from the roof of a London Underground train has been captured on film.
In the footage shared on social media from Canning Town station, a passenger waiting for a train is seen climbing on the carriage to get to one of the protesters.
The activist is grabbed by the knees and dragged down, falling to the platform where he appears to then be kicked and hit by angry commuters on the platform.
Others can be heard shouting and swearing at the protesters.
One shouts: "I have to get to work too – I have to feed my kids."
A second protester was chased along the top of the train carriage by a commuter before being dragged off.
A third Extinction Rebellion activist, who was broadcasting the protest on the group's social media accounts, said he was also attacked and "kicked in the head".
BTP said it was investigating what happened at Canning Town station, adding it was "concerning to see that a number of commuters took matters into their own hands, displaying violent behaviour to detain a protester".
Assistant Chief Constable Sean O'Callaghan said: "It is important that commuters and other rail users allow the police, who are specially trained, to manage these incidents.  
"Unfortunately, there is still a risk that Extinction Rebellion will target the rail network during this evenings peak. We will continue to have extra officers on patrol and will work to disrupt any potential criminal action before it happens."
---
Analysis
Justin Rowlatt, BBC chief environment correspondent
Today's Extinction Rebellion action against London's public transport network represents a significant escalation of its strategy of "disruption".
It is one thing to stage a colourful protest in a few roads in Whitehall, quite another to target the tubes and trains that so many Londoners rely on to get them to work on time.
Many commuters were left scratching their heads this morning, bewildered by an environmental protest that targeted one of the most environmentally friendly ways to travel.
The tactic has been the subject of much discussion within Extinction Rebellion – a loose affiliation of interested groups and individuals – and for good reason.
Tackling climate change relies on a consensus that action is necessary. Extinction Rebellion will want to consider whether gluing yourself to a train is really the best way to build that consensus.
---
At Shadwell station several activists glued themselves to trains, including 83-year-old Phil Kingston,
In April, Extinction Rebellion protesters also glued themselves to DLR train at Canary Wharf, causing minor delays.
Earlier Extinction Rebellion co-founder Clare Farrell defended the Tube action, saying "the public, I don't think, realise quite how serious this situation is".
Speaking to the BBC she added: "Someone has been hurt today. We understand that putting ourselves in these positions is potentially dangerous for us.
"But what else can we do?"
Mayor of London Sadiq Khan said in a statement: "I strongly condemn the Extinction Rebellion protesters who have targeted the London Underground and DLR this morning.
"This illegal action is extremely dangerous, counterproductive and is causing unacceptable disruption to Londoners who use public transport to get to work."
Train drivers' union Aslef said the Tube and other public transport services were "part of the solution to climate change, not the problem".
Extinction Rebellion should "stick to protesting against those who create the problem – not our industry, members and hard-working commuters", the union added.
A public order ban has been put in place on Extinction Rebellion activities in London since Monday.
In response, Extinction Rebellion called on "all London rebels and friends" to defy the ban.
---
Were you at one of the affected stations? Share your experiences by emailing haveyoursay@bbc.co.uk
Please include a contact number if you are willing to speak to a BBC journalist. You can also contact us in the following ways: